What's New?
Follow me on Twitter! @lisachipetine
I became the 4th President of the
Studio Art Quilt Associates
on October 1, 2009.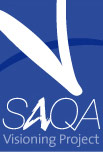 I launched my presidency by heralding a
year long project called
The Visioning Project
.
We are excited to announce the launch of the very first video channel related to art quilts:
The SAQA Channel
. All members of the Studio Art Quilt Associates are invited to provide videos for posting.